Andy Yip
and
Jane Zeng
, creators of the iPhone app DaBus were featured on
Yasmin Dar
's
Social Wire segment
on KITV's morning show. Both Andy and Jane were part of CityCamp Honolulu and the CityCampHNL Hackathon. In fact they won top honors at the Hackathon. Since the Hackathon, they came up with a name for the app, polished it up and got it added to Apples iTunes App Store.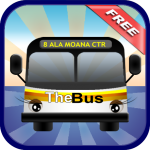 The DaBus app takes the guess work out of catching the bus on the island of Oahu. It uses the near real-time GPS arrival information, courtesy of the Oahu Transit Services, to provide the best estimated time on when the next bus will arrive. This app also tracks the current location of the bus you are interested using the GPS device installed on many of the buses. In addition, it also provides options to explore different bus routes and take a virtual ride to better understand its route.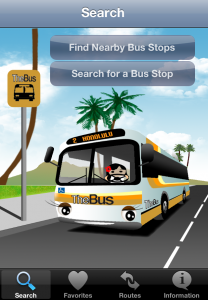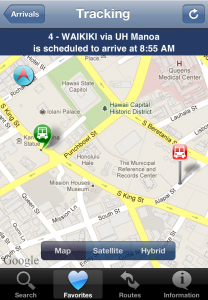 DaBus app ver 1.1 is available in the
iTunes App Store
. Jerome Koehler, tech blogger at
Non-Stop Honolulu
also did a
video review
of DaBus and its application. Congratulations go out to Andy and Jane for the successful launch of DaBus.